qualification: meditation trainer
III. certification Course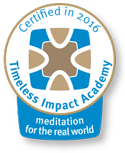 After finishing the basic training and having obtained the necessary experience you have the possibility to achieve the certificate of the Timeless Impact Academy.
As  a requirement we want you to participate in retreats and thus deepen nur understanding of meditation. These retreats can be done within the academy or in other gründet institutes for meditation.
Feel free to discuss your possibilities to get oir certificate individually. With the certification you receive the seal of the Timeless Impact Academy.
The plus of the Timeless Impact Academy Seal
the seal proves you to be empowered to guide meditation secular, authentic and customer oriented.
you know what you can do and where are your limits.
you are a qualified trainer with years of experience in meditation.
you can be listed as a trainee on our webpage and advertise your own offers.
What certification means:
you prepare a documentation about  your offer for customers in a written form
you present your offer in front of the group.
you guide a practical sequenz of 30 minutes.
you receive the certification and thus the seal of the academy.
Der Zertifizierungstag ist neben der eigentlichen Zertifizierung als ein Tag der Begegnung und des Austausches gedacht. Alle über die Jahre zertifizierten Trainer werden dazu eingeladen, an der Zertifizierung teilzunehmen. Für bereits zertifizierte Trainer besteht an diesem Tag die kostenlose Möglichkeit für eine Supervision.
Die erfolgreiche Teilnahme an unser Zertifizierung befähigt Sie:
Meditation im eigenen Arbeitskontext in einer seriösen Weise anzubieten.
Passende Meditationsangebote für Ihre Kunden, Kollegen oder Klienten zu entwickeln und durchzuführen und die Ergebnisse zu reflektieren.
Die Wirkung Ihres Angebotes zu evaluieren.
Mit der Zertifizierung als Timeless Impact Academy Trainer versichern Sie Ihren Kunden, dass Sie diese Kompetenzen erworben und nachgewiesen haben.
Courses in Thessaloniki
2019 not yet confirmed
Costs
450,00 € + 19 % VAT
Accommodation and meals must be provided by yourself.
Break snacks and drinks are available free of charge.
Our complete qualification program
Becoming a meditationtrainer – supporting human development with meditation"
Meditation arrives more an more in the middle of our societies and many People wish to integrate meditation into their active lives. The program of the Timeless Impact Academy qualifies you step by step to become a meditation trainer of the is a step by step training. It enables you to translate your personal skills in meditation into a business context und to offer a solid, flexible and high quality product in your own business field.
The qualification consits of three parts: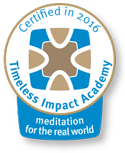 a one-year basic course, which enables you to meditate yourself and to make experiences in guiding others in mindfulness meditation
an advanced level which gives you the time to deepen your own meditation through daily practice and by attending retreats This enables you to participate at the certification seminar.
a certification seminar, which results in obtaining the seal of a certified meditation trainer at the Timeless Impact Academy.
This qualification involves the competence and authenticity for guiding meditation
• within your own profession
• in organisations, public institutions or civil cervices, who are open for meditation. 
• in  verschiedenster Größen
• bei Konferenzen, Kongressen oder in ähnlichen großen Settings
Our training aims at people, who meditate regularly for a while already or are willing to do so. 
This is a fundamental prerequisite for being able to use meditation in a professional context authenticly. Of course it is necessary that our participants work in a professional context that is open for the application of meditation. Last but not least helps our training those who wish to further their competence and personality through the method of meditation.
Attitude and views underlining our work have a buddhist background. We are in continuous exchange
with Dr. Peter Malinowski, the founder of the Timeless Impact Academy. Dr. Peter Malinowski is "Senior Lecturer in Psychology at the Research Centre for Brain and Behaviour at Liverpool John Moores University". With him we ensure to have actual scientific informations. On top we work with views and methods from systemic and constructivistic perspectives (Luhmann, Fritz B. Simon), with family therapeutic aspects from Virginia Satir a.o., group dynamic concepts (Kurt Lewin) and theories from the context of learning organisations by Peter Senge.
The conception and performance of our trainings is based on our professional and personal life experience.